Screen Shot Tutorials
An addon domain is a domain name that that points to a subdirectory within your account. For example, you may want innovation.org.nz to point to business.org.nz/innovation/. Addon domains must be registered domain names that you own and configured to point to your web site's servers.
To add a domain to your web site:
1) Click on the Addon Domains button on the home page.
2) Enter the domain name in the New Addon Domain field.
3) Add the directory that the addon domain points to in the Username/directory name field.
4) Enter the password for the domain in the Password field, if required.
5) Click on the Add button.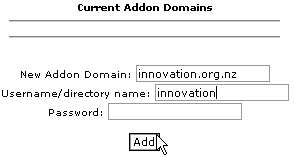 Free HTML Tutorials

Questions? Just Ask!