Screen Shot Tutorials
You may need to reset a counter to 0 at some stage, or set the counter number to some other number. This is easily handled in CPanel.
To reset your counter:
1) Click on the Counter link in the CGI Center area.
2) Enter the name of the counter in the Counter Name field.
3) Enter the new count number in the New Count field.
4) Click on the Commit Changes button.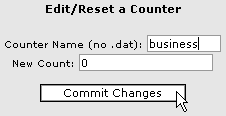 Free HTML Tutorials

Questions? Just Ask!